Bio
Jessie Deluxe -Fiery front woman, dynamic vocals and epic performances, heavy melodic rock.  Her songwriting is dynamic and powerful featuring choruses that, "lift you high in the air and then smash you back down to the ground." This is in your face rock n' roll adding her own unique edge.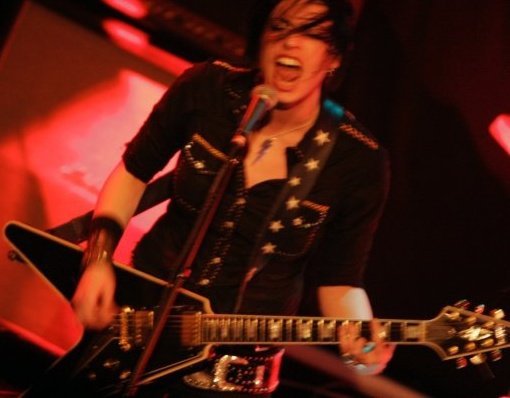 Jessie packs an authoritative punch with her various styles of singing, from Rock, Punk to Opera and hints of Death Metal. As she shreds on her Flying V, she commands the audience with the conviction of a rock icon. Joining her on the drums is Phillip Maddux (Octave Eleven) and on Bass is Diego Velazquez (Disasterman).  It is no surprise, these rockers have become well known for high energy shows and electric performances.

As for her background, Jessie has worked with producers such as Dave Jerden ( Janes Addiction, Rolling Stones, Alice in Chains, Red Hot Chilli Peppers),  Geza X (Dead Kennedys, Germs, Black Flag) and David Rowntree (Drummer for Blur). Her influences range from, Jimi Hendrix, David Bowie, Mr. Bungle and Green Jello.

The band recently recorded in Joshua Tree at Rancho De La Luna with Dave Catchings (Queens of the Stone age, Eagles of Death Metal, Mojave Lords) and with John Russo (Mark Lanegan, Failure, Masters of Reality, CKY).    Look Album release 7/15/22, Pre order available now! www.jessiedeluxe.com or www.foxwhitemusic.com and subscribe to the email list to be notified by email first! Thank you and ROCK ON!!!!
Press





Oh Jessie, You're So Fine

… you're so fine you blow my mind

By Alex De Vore

Musician Jessie Deluxe has lived in Santa Fe for about two years, but until the last couple months, you wouldn't even have known it. I mean, this is Santa Fe, and we are wary of new faces, especially in the music scene. It's sad, though, because the Los Angeles transplant/rock-and-fucking-roll champion has been toiling in what is essentially obscurity (minus the odd solo local show here and there), but thankfully a lot of that changed with the most recent After Hours Alliance Festival. Deluxe, along with her drummer Michael Petry, set up on the smaller of the two stages in the Railyard and, with little fanfare outside of totally sticking it to this one drunk dude who thought it was a good idea to heckle, melted everyone's faces with pure rock.

"Moving here, I had all these ideas about what Santa Fe would be like, and for the first year, I was honestly really bummed," Deluxe says with a nervous laugh. "I guess you could say that I was just waiting and looking for the right people to play with."

And she's found them, both with her eponymous two-piece and as the frontwoman for newly minted quartet Fox White, featuring Danny Duran, Kent Malmquist and Frederick Jones. With both these bands plus equal parts PJ Harvey, Joan Jett, Bad Brains and Jimi Hendrix, Deluxe has actually proven incontrovertibly something that some of us have been saying for ages: There's a super-depressing rock gap in this town.

Yeah, sure, we've got country rock baby boomers who perform in restaurant corners, Tom Petty-ish soft-rockers (important note: I fucking love Tom Petty, but you wouldn't put on his music when you were, like, out in the streets kickin' ass) who dive into nonstop covers in hotel lobbies and over-complicated indie-rock nerds who turn music into a huge fucking hassle, but Deluxe's down-and-dirty Sunset Strip throwback take on slaying guitar and surprisingly technical drums (layered over vocals that can and do range from whisper quiet yet emotionally charged to intense screaming to the operatic and beyond) reminds us of one very important thing about music that seems to be forgotten, time and time again—it's supposed to be fun.

This hits me like a train each time I speak with her in the past few weeks. Having recently seen live performances from both of her bands, it's easy to tell that Deluxe has an accessible spark of self-humor at play, alongside her obviously intense work ethic. Absolutely, she pays her dues, writes songs and makes connections at a furious speed, but it almost seems like if she weren't having fun, she'd probably just walk away entirely.

Not that I believe she'd quit music outright; it's in her bones. Certainly most musicians have the "Growing up, my parents did X and that's why blah blah blah" stories, but Deluxe came up observing her mother, Kat Lester of jazz project Le Kat (also a star of 1979's Phantasm), working in recording studios as a multifaceted musician and vocalist. By age 10, she had written her first original song, titled "I'm Not Your Slave," a gripping tale of how parents just don't understand. At 13, she followed it up with the cassette release of "Listen to the Trees," a song about the rainforests recorded with a little help from her mother. By age 21, she wound up working with Alice in Chains/Jane's Addiction producer Dave Jerden, a "life-changing experience" Deluxe only slightly regrets because, as she puts it, "due to my age, I assumed the music industry would always kind of be that way."

Of course it wasn't, and to date, 34-year-old Deluxe has only released one full-length album, though she does say she could easily record a double album with all of the material she's written. But anyway, that comes next, or should. For now, we should make it our responsibility to nurture this new local. Go see both her bands on Nov. 13 at Boxcar, for fuck's sake, and download her songs for free at jessiedeluxe.com. This is a woman who does something we simply don't have around here and who also has all the trappings of a big-name rock star, sans ego.

In case you didn't know, that's rare as hell. 

 


http://www.sfreporter.com/santafe/article-11193-oh-jessie-you%E2%80%99re-so-fine.html








The Beat Goes On
SFR's 2015 Local Music Issue

"The novel resurgence of straight-fucking-rock that came in the form of post-hipster nonsense bands like Jet was a real heartbreaker, and the world cried out desperately for something they could down beers and smoke cigarettes to. This may finally be that record. Jessie Deluxe seems to have found this glorious middle ground that exists someplace between dirty Southern riffs, the fast-living thrill of the late '80s Sunset Strip and Hole (if Courtney Love ever had a clue about what counted as punk-fucking-rock). This lady has range, both vocally and musically, and can get you dancing with a song that grooves, like "Whiskey," or just as easily give you a reason to cross your arms and angrily bob your melon with "Dummy Dust." "I Tried to Warn You" all but announces a teenage fascination with PJ Harvey but is still made all her own as she takes the vocals lower than you'd think she could while keeping it sexy. Hell, this whole damn record is sexy. (ADV)"

http://www.sfreporter.com/santafe/article-10342-the-beat-goes-on.html
 

Foxy

Fox White celebrates their new album release in Madrid

June 7, 2017, 12:00 am

By Alex De Vore, Maria Egolf-Romero

By now, you should be aware of Jessie Deluxe, a welcome dash of operatic punk rock awesomeness in our scene who mines from areas similar to bands like Eagles of Death Metal, but with a slightly heavier lean and healthy regard for the classics of rock. Did you know Deluxe also fronts Fox White, a triumphant quartet not entirely unlike her usual offerings and perhaps more prolific in their songwriting prowess?

Fox White formed two years ago as a side project but, according to Deluxe, has grown into a far more regular gig. "Jessie Deluxe is still totally a thing and there will be another album coming out this year," she says, "but [Fox White] has had the same amount of effort and intensity, and we've been working on this album for a year."

The self-titled release to which Deluxe refers contains a whopping 17 tracks that run the gamut from all-out rock 'n' roll to jam band-like tomfoolery, but all with a cohesive, collaborative vision courtesy of band member/album engineer Danny Duran. "We rehearse at Danny's studio in Galisteo, and you're staring at recording equipment all the time," Deluxe notes. "We just had so many songs and it was getting out of control—I wanted to put out 21, but we couldn't fit them all on the CD—but we recorded everything live in one day, which is crazy."

Luckily, Deluxe had recorded her guitar parts before a snowboarding mishap left her with a broken arm, but even with a three-month delay while she was recuperating, she overdubbed vocals. Now that's punk rock.

Fox White performs the album in its entirety this Friday at the Mine Shaft Tavern (plus a few other gems thrown in), and though it's not an official release (Deluxe refers to it as a "celebration"), it will be available for sale. Intrepid listeners can sneak a listen at foxwhitemusic.com, but if you've ever seen a performance from Jessie Deluxe, her name alone should be reason enough to attend. (Alex De Vore)

 

- See more at: http://www.sfreporter.com/santafe/article-13505-foxy.html#sthash.Ry7OGeVw.dpuf

 








Jessie Deluxe Debut UK performances at the Barfly and Metro Bar



" Wednesday night at the Barfly - Chalk Farm was the most exciting night I've had seeing a new act for a very long time."

It's a classic once in a while story.  You get invited along to see yet another new band and go with expectations not exceeding much more than that.  Another new band. You hear the promotional songs. They're good. Better than the average. Still you don't expect to be so blown away on the first night that you come away thinking you've just been privilieged to see a future rock legend at the very earliest stage of her career.

"One minute she struts about like a wooden doll with her eyes thrown up, the next is all out, head back, Hendrix. It's brilliant to watch.  She has an inner stillness and peace about her when she is not engaged in her music, that she switches from when the songs kick in,getting totally lost in her rock persona."
-Rockchart.com


"L.A. chicks rawk"



Metal ala L.A.–sans dicks–is on its way to Sacramento in the form of Jessie Deluxe and Evil Beaver. Jessie Deluxe is the name of both the front woman and her band, whose sound she would not describe as metal. Nope, she'd call it "heavy melodic rock." Says so in the promos for her new CD Jessie Deluxe Vol. One. And she's got a point. A sorta Sunset Strip scenster—she appears in legendary La-La Land rock creepesario Kim Fowley's unreleased monster love story flick, Pink Cement—Deluxe eschews metal flash for something more ethereal and layered. Make no mistake, her band can rawk and Jessie slays on her Flying V, but singing she is more prone to grab your ears during quieter, moodier moments. Think Margo Timmins in really heavy black mascara."


-Matt Coker, NewsReview.com


L.A. Record

"Jessie's drinking anthems and speedy love songs have technical virtuosity and sing-along likeability that you'd have to be vegetative not to move to."
-Richard Seymour


Allgigs UK

"Very much like the British own Republica of the 90s, but bringing with it a modern sound to get with the times. The sound is commercial, but intelligent and angsty, shining through a rock-pop exterior, and resembling Hole as opposed to the covert intelligent sound of Carina Round and PJ Harvey, who they also imitate successfully at times. One of these times is first track "Angel" which shines mature vocals, accompanied by frenetic guitar riffs, to emanate attitude. "Candy" the second track on the EP, grabs the listeners interest with more angst, a fine example of the pop punk mentioned before, the vocals are Hole, and Chicks On Speed like, shouty and attitude filled, this would be the perfect album opener with it's catchy chorus which crashes in relentlessly with a "Notice Us" nature.

"Hello, Hello, Hello, Goodbye"

The song certainly expresses a brash confidence that reflects the personality of the band and their music, and which would have them shooting up the charts faster than a NASA expedition taking off. Final tune "I Know" reels you in with Smashing Pumpkins like chugging guitar rhythms and irresistible riffs, one minute you could be listening to a parent-teenager dispute over the volume of their music, the next, there enters a classy, and melodic vocal style, with some scathing, rather than angry lyrics to match. Whether it's a mish mash of teen angst and rock pop, that floats your boat, or whether you prefer some classy and intelligent angst, Jessie Deluxe certainly have something for you."
-Katherine Tomlinson



Rock Chart

"Definitely check out their latest offerings and get to see them at any available opportunity.  You will be happy to have heeded my advice, people. Girls, you will want to be her. Boy's you will want to be her.......... boyfriend. She certainly swept me off my feet!"
-Bill Meyers